Partner with horses on the ground and learn how to synchronise your body rhythms. Connect with the horses in an active way. Learn to start, stop change direction with your breath, through feel, body work and intention. Walk, trot and dance together without restriction.

Whispering is a natural process of communication that has to be felt and embraced at deeper levels from within. It's a wonderful way to interact with horses and learn from your own body as to how to direct yourself and lead interactions in a non-verbal way. Horses respond to body movements, emotional states and energy. Without physically touching the horse, Natasha can teach you how to engage in a dialogue. By learning to speak the same language, humans are able to develop a greater understanding of respecting healthy boundaries and needs.

Natasha's aim is to make the whisperer and the horse feel safe in the round pen. She encourages freedom of expression within the horse. When the horse is enabled this opportunity of freedom, it is the horse that becomes our teacher. The horse in turn helps us to become an authentic role model for harmonious leadership based on respect.

By having clarity of thought, intention and action we can better gain consistent communication skills that can be used to transcend many areas of our personal lives beyond our experiences with horses. Whispering helps identify areas where communication can be improved. Horses are herd animals and use precise communication to ensure their survival. If a predator approaches, the entire herd work together quickly and efficiently to ensure safety. By Whispering, you can fine-tune your communication to feel positive, confident and assured in every day life.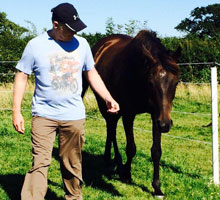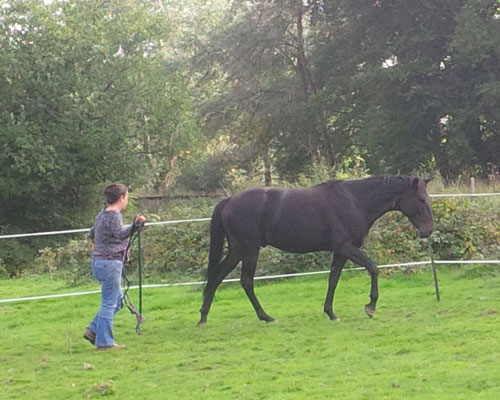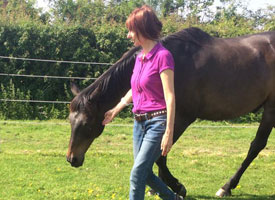 Sessions
Morning and afternoon sessions
3 hours - £110
Full day - £160
(1:1 or group on request)
When to whisper?
All direct communication with horses can be considered as 'Whispering. However in a round pen Whispering session, you can focus on specific elements of communication that you would like to refine.
- For personal development
Communicating your needs and setting boundaries for yourself are vital to a healthy and happy life. It is an essential tool in every walk of life and activity. Whispering can help give you clarification with your communication. This can benefit you in your career, relationships and in day to day life.
- To bond with your horse
Whispering offers the gift of trust, love, peace and respect through horse talk. Whispering is an enriching way to be able to bond with your horse as you can enter into direct 'conversation'. You will quickly be able to see how your horse feels and as a result work on areas you improve the bond between you both.